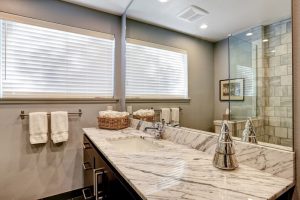 Remodeling one of your home's bathrooms is an excellent choice for sprucing up the home, even if it isn't the first spot most people think of for remodeling. There are many good reasons to go with a professional bathroom remodel:
Replace water-wasting fixtures with water-savers. You'll cut down on your bills and help the environment.
Upgrade the bathroom for people in your home with mobility issues or other special needs.
Increase the market value of the home.
Make a tired bathroom more pleasant to be in.
Here's a reason you may not have thought of: remove damage caused by mold and mildew.
The Mold and Mildew Problem with Bathrooms
No room in a home is more susceptible to the development of mold and mildew than the bathroom. There is more plumbing concentrated into this small space than anywhere else in the house, and that makes it easy for small leaks to start in places you can't see. And of course, there's the water used in the room splashing onto the floor or behind fixtures. Minute shifts in construction material over time leave cracks and crevices for all this water to seep into, creating a fertile ground for all kinds of unpleasant growth. You may not know it, but right now there could be a large amount of mold and mildew behind the sink cabinet or in the back of the shower or tub.
There are ways to remediate mold, but when the problem gets out of hand, we recommend considering a remodel that will upgrade the bathroom and get rid of mold at the same time. Expert remodelers can help design a new bathroom with fewer places to allow trapped water to gather and start the mold and mildew growth all over again.
Working with Professionals
Can you do a remodel of a bathroom on your own? Yes, potentially. But you must invest an enormous amount of time and money into this project, and you likely won't end up with the results you want. Mold and mildew are one of the many problems you'll encounter in a remodel, regardless of whether you're doing the job to deal with mold or for another reason. Because mold and mildew create structural weakening, you may end up causing extra damage to the bathroom while you're trying to improve it.
You must contact important local government offices for permits for building projects before you get underway—doing remodeling without a license or permit can mean having to tear out your "improvements" later on because they aren't up to code. You don't have to worry about any of this when you have professional remodelers on the job. They'll handle all the necessary permits, and they're licensed to see that all the work they do is up to code.
You only want the best people for bathroom remodeling in Melrose, NM or elsewhere in the Clovis area. Our plumbers offer complete bathroom remodeling services. Whether you only need the plumbing redone as part of the remodel, or you want us to tackle the job from start to finish, call us today to find out more.
When you need a plumber, call a Carpenter! Mark Carpenter Plumbing serves Clovis, NM and the surrounding areas.