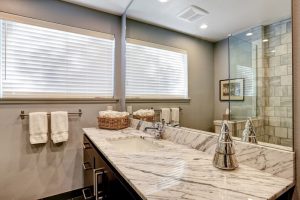 Where you choose to spend your money when it comes to improving your house can be a difficult decision to make. You have to make choices about cost and return on investment and how the changes may enhance your life. When considering these factors, you may not at first place a bathroom remodel high on the list.
But there are a number of good reasons to consider this option, especially if you don't have the budget for something as extensive as a kitchen remodel. Below are some specific reasons you might want to do a bathroom remodel.
1. The Bathroom Is Outdated and Inconvenient
If you live in an older home and the bathroom still contains most of its original fixtures, it's probably not a convenient bathroom and is wasting water. It's also probably pretty stale and dull-looking. The bathroom is usually the first room in your house you visit in the morning and the last you visit at night and making it easier to use and more attractive can make a big difference from day to day. Remodeling for water conservation can also make a significant change in your water bills.
2. You Want to Increase the Value of Your House
Any remodeling in a house can potentially increase the market value of the house (provided that it's done by skilled professionals). Bathroom remodels have high value because they're essential rooms for the house and potential buyers will always take a close look at them. The value increase can be especially high for an older home.
3. To Deal With Extensive Mold and Mildew
A bathroom that has suffered damage from mold and mildew can sometimes be too far gone for regular remediation techniques to eliminate it. The mold and mildew can have gotten into the floorboard and behind the fixtures such as a wall-mounted sink and wall-attached bathtub. If you've already been thinking of remodeling the bathroom, handling mold and mildew can be the tipping point.
4. Plumber Repairs Are Building Up
This goes back to the older bathroom. A bathroom that has aging pipes made from outdated material will cause incessant repair issues. Leaking, water damage, appliances that are continually breaking… sometimes you may just want to start over with the bathroom entirely and have the plumber take care of all the problems at one time, starting with putting in new copper and PEX and CPVC piping.
5. You Just Don't Like the Bathroom Anymore
This is a subjective call, but at some point, you may simply find your bathroom just looks ugly and outdated. If you have the budget to make other changes to improve your house and give it a more contemporary appearance, then why not include that bathroom and put in interesting fixtures with better features? (And make sure you put in a low-flow toilet as well.)
If you are thinking of arranging for bathroom remodeling in Texico, NM, you can rely on us. We're skilled with bathroom and kitchen remodeling, as well as new construction plumbing.