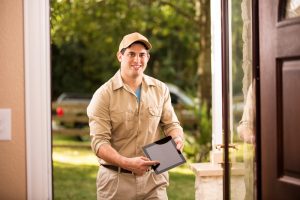 When you think of calling a plumber, is it usually because you have a broken appliance, leaking pipes, or some other type of major or minor repair issue? That's certainly the approach you want to take with plumbing problems, as trying to do DIY work or turning to amateurs can create even bigger problems. You can trust our plumbers to help you and deliver quality plumbing repairs every time.
However, plumbers can do much more for you than fixing things when they break. Below we've listed some ways you can put your local plumber to work for you with preventive measures and plumbing improvements.
Bathroom and Kitchen Remodeling
You won't find remodeling services with every plumbing contractor—only the best ones! Bathroom and kitchen remodeling work require extensive plumbing changes and installations, and you want only the most skilled plumbers to do this work. Our plumbing team does more than hande remodeling the plumbing, however: we do complete remodeling for bathrooms and kitchens. Work with one contractor from top to bottom!
Preventive Drain Cleaning
Drain cleaning is a job people usually think of when they have an obstinate clog in a drain that a standard plunger won't get rid of. But why not stop such clogs from happening in the first place? It's simple: call your plumber for annual drain cleaning services that will eliminate the build-up of grease, oil, hair, soap scum, and more from the drains all around the house. This will make your home practically clog-free!
Water Heater Installation
The water heater is a vital part of the daily functioning of a home, and installing a new one is a job for a plumber. When you're looking to make an upgrade to an old water heater, or you think your current water heater doesn't have much life left in it, schedule a replacement with a plumber.
Leak Detection Checks
Leak detection is a job plumbers do when homeowners have evidence that pipes somewhere in the house are losing water. But we recommend you have a plumber do leak detection for your home every few years as a precaution. You may have small leaks all around the house and not noticed the trouble yet. The sooner they're caught, the easier they are to fix—and the less water you waste.
Water Treatment System Installation
Do you have concerns that the water in your house isn't as clean, pure, and healthy as it should be? This is also an issue you can have a plumber address. The plumber can first do water testing to find out if your home's water supply does have contaminants, and what kind. The plumber can then recommend and install filters, purifiers, water softeners, or whatever else is necessary for you to have the best water quality possible.
Is it time to call a plumber in Melrose, NM or elsewhere in the Clovis area? Then contact us: we offer a wide range of services to help you live better with your household plumbing!
When you need a plumber, call a Carpenter! Mark Carpenter Plumbing serves the Clovis, NM area.