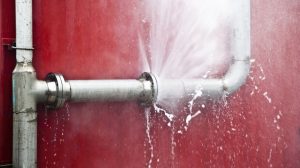 First, before we go any further, don't panic. That's rule #1 for an emergency like a burst pipe. Stay calm, follow a few basic steps, and you can have the problem solved.
You will almost certainly need to have a professional plumber on this job, but if you have a burst pipe in Clovis, NM, you have a great local contractor to call: Mark Carpenter Plumbing. We can help fix your burst pipe and frozen pipe troubles and limit possible water damage.
The Basic Steps to Deal With a Burst Pipe
Shut off the water: Go to the shut-off valve for the water main into the house and turn off the water flow to the home. This will prevent any further water loss and water damage. If you don't know where your shut-off valve is, we recommend finding out right away. In most homes, it's located next to the water meter. If you're unsure about the location, you can call a plumber for assistance.
Shut off the electricity: This isn't always necessary. In cases where a large amount of water is escaping near to electrical power, turning off the electricity at the electrical panel will reduce the chance of a high voltage shock.
Open faucets connected to the burst pipe: The reason pipes burst is rarely because of the expansion of ice inside them, but the increase in pressure along the pipes because of the ice. Reduce the pressure along the pipe line by opening up the faucet connected to it and letting the remaining water drain out.
Reach out to a plumber: This is the point when it's best to call a plumber. You cannot do an actual burst pipe repair on your own, since this task usually requires a pipe replacement. If there is still ice, a professional plumber can thaw the pipe without causing further damage. (Trying to thaw the pipe on your own will increase pressure and may cause the other side of the pipe to burst.)
Mop up the water: If water has already spilled out, start getting rid of it so it has less opportunity to create water damage and allow for mold and mildew growth. Use a wet/dry vacuum if you have one—this is what it was made for!—or use a mop and bucket. For smaller amounts, throw down old towels to absorb the water.
Put a bucket under the leak: Water may still escape from the burst pipe, so put a bucket under it to catch water still coming from it.
And that should take care of you. When the plumbers arrive, they'll cut out the burst pipe section, slide in a new one, and then solder it into place. The plumbers can also give you advice for avoiding pipe bursts and frozen pipes in the future. They can assist you in taking care of any water damage left behind.
You can rely on our expert plumbers in Curry and Roosevelt Counties, no matter what household plumbing jobs you require.