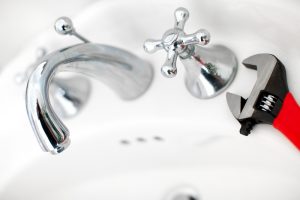 You've got a problem with your bathroom sink: there are cracks on the surface, leaks are appearing at the edges, the p-trap below has come loose, there's permanent staining on the surface. Your first instinct is probably to call for professional plumbers to repair the sink. That's the right first instinct since trying to take care of a repair on your own can end up making the situation worse, leading to more leaking, water waste, and even property damage.
However, this isn't the only option you have when you call a pro plumber about your troublesome bathroom sink. You could have the plumber replace the sink entirely.
Repair vs. Replace—There's No "Right" Choice in All Cases
The best way to make the decision between repairing the bathroom sink and having a new one put in is to consult with the plumber. Plumbers can tell when the damage to a sink is serious enough that it's more cost-effective to go ahead and get rid of it. A plumber can explain cost differences and long-term outlook. Provided you've called on a reputable and honest plumbing contractor, you can expect straightforward and honest answers to any of your questions.
In the case of a cracked basin, one of the most common sink troubles, the "repair or replace" question depends on how deep the crack is and how much it hurts the appearance of the sink. Repairing a superficial crack in porcelain is a basic job requiring resurfacing. If there are multiple small cracks, replacement becomes a better option, since you're likely to see more cracks. Deeper cracks that can lead to leaks are a reason to have a replacement as soon as possible—especially if there are cabinets below the sink where you store items.
Staining is a sink problem that's all about appearance. Your sink will still work fine, but you may not enjoy it much and dislike how it affects the way your home looks. Unless there's something special about the design of the sink you really love, we recommend getting a new sink.
If the sink is leaking, your plumber can help find the source of it—this will affect the decision of whether it's worth repairing. The problem could be a simple one with the sealing around the drain or at the edges of the sink. If the plumber discovers cracking is the source, they'll likely recommend a new sink.
Maybe you just don't like the old sink? Ugly old designs are a good reason to change to a new model. Our plumbers are experienced with bathroom remodeling, and they can help you make the upgrade to a beautiful new sink with the modern look you want.
The Bathroom Sink Plumbers You Can Trust
Whether you need a replacement sink or a basic sink repair in Clovis, NM, you can trust the job to our team of plumbers. You can expect us to arrive on time, ready to get to work with a truck full of parts so we can complete most repair tasks on the first visit. We're fully licensed and insured and all our employees have been screened and drug tested. We guarantee your satisfaction.
When you need a plumber, call a Carpenter: Mark Carpenter Plumbing serves the Clovis, NM area.