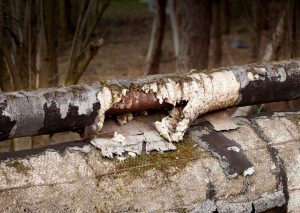 People are more concerned today than ever before about the quality of the water that comes to their homes. Municipal water goes through treatment plants to ensure that it is safe to drink, but it's possible for water to pick up contaminants through groundwater seepage on the way to a residential plumbing system. (This is how hardness usually starts in water.)
There's also a concern about old piping and how it can add toxicity to the water supply. You can't do much about municipal pipes, but what about the pipes in your home? If you live in an older house, you may have outdated and aging pipes—could these create health risks for your household?
Is Galvanized Pipe Safe for Drinking Water?
The type of pipes that we're concerned about, the "old pipes" you may wish to have replaced, are made from galvanized steel. This is steel that is coated in a zinc solution to prevent corrosion. It is no longer used in residential plumbing systems and has been replaced by copper and different types of plastic (PVC, PEX). If your home was constructed pre-1970 and has never had its plumbing upgraded, it almost certainly has galvanized steel and may be almost entirely made from this metal.
Galvanized steel will eventually start to corrode and can pose a hazard for drinking water, which makes it unsafe for drinking water in the long run. The problem isn't the zinc coating but lead and cadmium, two heavy metals that can exist in the zinc because of the galvanizing process. Both are unhealthy, with lead posing a particular danger for young children. As a pipe corrodes, more of these heavy metals will be released into the water. If your water is developing a metallic taste, it may be due to old pipe corrosion.
What to Do If You Suspect Aging Pipes in Your Home
If the age of your home's plumbing or signs of contaminants in the water concern you, we recommend you first have the water tested. Corroded pipes are not the only reason for poor quality water, and the best first step is to understand what is actually in the water so you can have water treatment specialists deal with it. Your pipes may not be in trouble at all, in which case the specialists can advise you on a water filtration or water purification system installation.
Pipe Replacement Option
However, if you have galvanized steel pipes in your home, no matter how serious the trouble with your water is, we recommend you have the pipes replaced. They will only worsen, creating trouble from leaks along with the potential health hazard. For older homes, a whole-house repiping is probably best. This is a big job, but you can count on our plumbers to have it done fast and with minimal interruption to your home life.
We have many years of experience with plumbing in Farwell, TX and the surrounding area, and one of our specialties is new construction plumbing. We know how to put in the best new pipes.