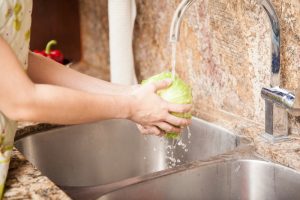 If you've landed on this blog post, it's likely because you're looking to make an upgrade in your home's kitchen. It may be a full plumbing-to-light fixture kitchen remodeling, or it might be only putting in a new sink. But whatever the extent of your remodeling, you've got new kitchen sinks on your mind and you want to know what your options are.
And you have plenty of options. Kitchen sinks are not only designed for function but also for décor. Here are a few ideas to get you started thinking about what you want from your kitchen sink remodel, either as part of a full kitchen redesign or only a few upgrades.
Multiple Bowls
The configuration and number of basins in a kitchen sink can make it much easier to use. If your previous sink only had a single bowl, we recommend trying a multi-basin model. You can have the space of your old sink expanded to accommodate the extra bowls. You're familiar with double bowls, but triple bowls—which have a smaller prep sink in the middle of the two larger basins—provide fantastic flexibility for meal preparation and make cleaning up easier.
Extra Sinkholes
Your last sink may have only had one sinkhole for the faucet. A new sink with multiple sinkholes allows you to put in a sprayer and soap dispenser. Or you can have a second faucet put in for a multi-bowl sink to make it easier to work with.
The Farmhouse Sink (Apron Sink)
The two best-known sink designs are the overmount and under-mount. The under-mount sink tends to be more desirable because it creates a cleaner appearance and it's easier to sweep food crumbs and other waste right into it. The overmount, or drop-in, sink makes for easier installation and removal, but if you have professional plumbers on the job you don't need to worry about the difficulty of installation. However, you might not have considered a third design, the farmhouse sink. Despite the name, this isn't necessarily a "rustic" looking sink, although you can choose a rustic design if you want. Farmhouse sinks are also called "apron sinks" because they have a large basin with an apron that extends over the front of the sink cabinet. This type of sink provides the clean appearance of the undermount sink along with a larger basin that helps for major food prep and clean-up jobs and works well for larger pots and pans.
We're a Melrose, NM kitchen remodeling contractor, and we can handle any size of job. If you are only interested in a new sink installation, we'll be glad to help you select the best new sink and then have it put in place fast. But we're also more than capable of doing a complete remodel, including cabinets and countertops and helping to reduce your kitchen's footprint. Make an appointment with us today and find out more about what we can do to improve your home life with our kitchen and other remodeling services.