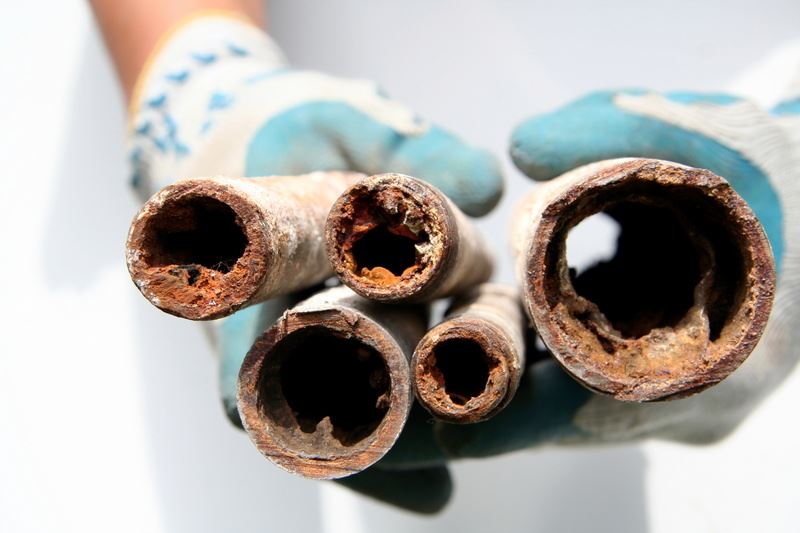 Plumbing pipes get old, like anything else in a home. But how fast a pipe gets old, and what happens to it as age starts to catch up to it, is different depending on the pipe material. Throughout the history of indoor plumbing, many different materials have been used to construct the freshwater and wastewater pipes for homes: clay, copper, lead, cast iron, brass, galvanized steel, copper, PVC plastic, PEX plastic, and CPVC plastic.
Based on the age of your house, you may have a variety of pipe materials running through the walls, ceilings, and underground—and some of them made need to be repiped for newer material.
The big question: When you call on a plumber in Melrose, NM for repiping, how much repiping do you need?
Consider the Age of Your House
Before 1960, the most common type of metal used for plumbing pipes was galvanized steel. This is steel that is dipped in a zinc solution to help prevent corrosion. These pipes were used in the 1980s, although copper piping, a lighter, less expensive, and more corrosion-resistant metal was the dominant pipe material by the 1970s. In the 1990s, different types of plastic—which don't corrode at all—became common. Modern homes today almost exclusively use copper and a variety of types of plastic. One type of plastic used starting in the 1970s, polybutylene is no longer used because it's prone to breakage.
If you have a home built pre-1980 that hasn't had any repiping done to it, there's a strong possibility of some galvanized steel in it and polybutylene. Even if most of the metal is copper, there may be steel fittings and joints. For a home built before the '60s, the steel pipes are probably extensive. And for homes older then World War II, there may also be lead pipes.
You don't want any galvanized steel in your plumbing since it corrodes and the zinc layer can add toxins to the water. You also want the polybutylene pipe removed. If your home is older than 1980, have a plumber check for the extent of repiping necessary. For a home older than 1960, a whole-house repiping is probably the best choice. Even if not all pipes are steel, the age of the plumbing makes it a smart idea to have all the pipes upgraded.
Plumbing Issues
If you're thinking of repiping already, then it's likely that you're experiencing multiple plumbing issues: leaks, low water pressure, discoloration in the water, and multiple drain blockages. You don't want to wait to find out how much repiping you need in these cases—call a professional plumber to look into the plumbing and find out exactly what needs to be upgraded.
Whole-house repiping is a big job, no question about it. But the improvement in your home, the reduction of repair issues, and the increase in the house's market value are all worth it. Our professional plumbers are skilled with doing this work, and they'll have it taken care of fast and with as little disruption to your daily life as possible.