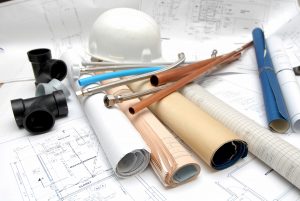 When spring starts at the end of March (March 20 this year), homeowners start making preparations for the transition from the cold of winter to the heat of summer. These "spring cleaning" tasks apply no matter where you live, even places where the winters aren't rough or the summers are mild. It's just a good time of the year to take stock of a house and find out where repairs and replacements are needed.
The plumbing in your home will benefit from a spring check-up after all the work it did over the winter. Sometimes this check-up will require calling on a professional plumber for repairs or cleaning.
Below is a checklist of steps to take to see where your home's plumbing may need the assistance of licensed and experienced plumbers.
1. Check the Sump Pump
A major danger that homes face as spring starts is the threat of flooding from snowmelt and rains. Water rushing into basements and crawlspaces can create major damage to building material and personal possessions and lead to the development of mold and mildew. A sump pump is the best way to defend against this. If you have a sump pump in your home's basement or crawlspace, pour a few gallons of water into the sump pit to see if the pump turns on automatically. If it doesn't, arrange for repairs right away. (If you don't have a sump pump, we strongly recommend you have one installed this spring. Our technicians can do this job as well).
2. Inspect Your Drains
The drains undergo a great deal of stress over the winter, both kitchen and bathroom drains and floor drains. The floor drains are a big source of concern because of the chance of flooding in spring, so we advise you pour water down them to make sure their traps are full and that there's no blockage. If the drains are draining slowly or blocked, call for professional drain cleaning to clear them out.
3. Inspect the Water Heater
Here's another part of the plumbing that gets a workout during the winter. But you need your water heater every day of the year, so ensuring that it's in good shape is crucial as the new season begins. Look for any indications of leaking. Also, be on the watch for strange sounds or drops in water heat or hot water volume. If you suspect your water heater needs repairs, don't wait to arrange for them.
4. Have Dripping Faucets Repaired
Dripping faucets are more than minor annoyances; they contribute to massive water waste across the country each year. Having them fixed gives you a good start for saving water during the spring.
Whether you're looking for plumbing service, water heater repair, or drain cleaning in Clovis, NM, you can trust our licensed team of plumbers to take care of everything. We want you to enjoy plumbing that's as trouble-free as possible this coming spring and summer.
When you need a plumber, call a Carpenter: Mark Carpenter Plumbing. Serving the Clovis, NM area.