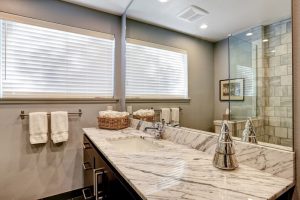 We're a top plumbing contractor offering services throughout the Clovis area. But we offer more than standard plumbing work for homes. We also provide kitchen remodeling services to Clovis, NM. You can depend on us if you're only looking for a small remodeling job to put in new cabinets or replace aging plumbing (which is especially beneficial if your home is more than 40 years old). But we can also handle full kitchen remodeling projects that start from the ground up. It's part of our new construction services—which include bathroom and commercial remodeling plumbing—and another reason that so many people in the area turn to us.
Why Shouldn't I Go DIY With a Remodeling Job?
We understand that a kitchen remodeling, even a smaller one, is a major undertaking and the price tag for it can be intimidating. But we recommend you think twice before trying to tackle this as a "do-it-yourself" project for the summer. You might be handy, you may even enjoy this sort of hands-on project, but trust us—this is one area where going with pros is the superior option.
Professionals get the job done fast and affordably
Here's one of the little dark secrets of "DIY" projects: they often don't save money! A professional kitchen remodeling contractor has the experience and tools necessary to handle the job fast and accurately, and that means it's a more affordable job. Professionals won't make costly mistakes, and they know the correct materials to order and how to purchase them at a lower cost.
Professionals Do the Job Safely
New construction is a ton of work, even on a supposedly "small" job. (And there isn't truly anything like a "small" job). Getting the basic tasks of pipe-cutting and cabinet-making done means using powerful tools, and unless the people using these tools have the right training, the jobs can become dangerous. You don't want to spend extra time training yourself to handle immensely powerful tools simply to avoid causing injury to yourself! And there are other safety considerations as well, such as making errors in wiring or hooking up gas lines. Professionals are prepared to handle all this work in the utmost safety, and they have insurance to protect you in case something should go wrong.
Professionals Remove the Stress
We've said this before, but it bears repeating: remodeling a kitchen is a large job that requires intense planning from start to finish. Instead of spending that time yourself, and spending more money doing it, you can have a professional take on all that stress instead. With the right professional, the job will go smoothly and the only strain on you will be making decisions about how beautiful you want the end results to be.
Professional Make the Final Product Look Great
And those end results should look beautiful because that's the goal of a professional: making sure you have the new kitchen you dreamed of. You won't have this kind of assurance if you attempt to do it on your own. Let people with years of skill and expertise see that your remodel is exactly what you want it to be. Our new construction professionals are the people to contact for your kitchen remodel.
When you need a plumber, call a Carpenter! Mark Carpenter Plumbing serves the Clovis, NM area.