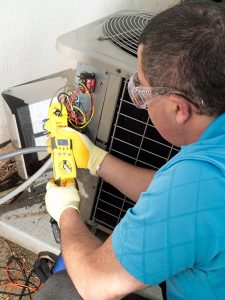 When a home's central air conditioning system breaks down during a New Mexico summer, it's not a fun time. You'll want to have the AC repaired right away, or else you'll spend some unpleasant days and nights in a sweltering home, desperately trying to stay cool with an oscillating fan.
Okay, so it's time to repair the air conditioner. Who do you trust for the job?
What About Yourself?
Hey, you're handy around the house. You've got some tools in the garage—some of them advanced. How hard can it be to open up the AC and find out what's wrong and then fix it? There's no need to go any farther than your own home for the solution.
No, please don't. Unless you are an actual HVAC contractor, you shouldn't attempt to fix the air conditioner as a "do-it-yourself" project. ACs are complicated refrigerant-based electronic devices. You wouldn't even know where to start looking for the problem, let along be able to accurately fix it.
How About That Guy Who Makes the Internet Videos?
You know, that guy with the YouTube channel about fixing things around the house. He's got a few videos about air conditioning repair. Why not watch one of those, or set up a tablet playing the video near the air conditioning system, and just follow along to fix the trouble?
Here's one of the dangers of too much information getting onto the internet—it gives people a mistaken sense they can do complex repairs themselves. Some of these videos are helpful for understanding how components of an AC work, but any honest video-producer will tell you that it's best for you not to try to tackle the work yourself.
Well, My Brother Knows This Guy Who'll Do the Work Real Cheap
…and he said…
We're not going to bother going into a deeper explanation here, because "real cheap" will be exactly what you get if you let any amateur tamper with the AC. This is not just a concern about the amateur doing the job incorrectly—although that's probably what will happen. Amateur work on an air conditioner will void the warranty and you'll be stuck paying for anything that goes wrong. Amateurs also don't have licensing and insurance, which means you could be liable for any injury they suffer on the job or any damage done to the house.
Maybe a Local Professional HVAC Company?
There is a local company that's licensed to work on ACs and have years of experience. It costs more than doing it myself or hiring an amateur but…
…but the work will actually be done right, be done on time, and not cost you anything extra in voided warranties or "fixes" that fail only days later. No matter what's wrong with your air conditioner, you must leave the repair services to an HVAC company you can trust in Clovis, NM—a professional one. The difference it makes is tremendous. Take the shortcut to having a cool house again and call our licensed professionals when you have AC woes.
Mark Carpenter Plumbing offers air conditioning services as well as plumbing to Clovis, NM. Call us today at 

(575) 222-2551

.