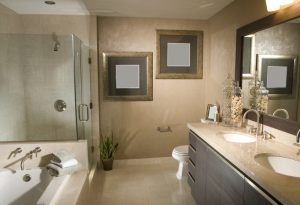 The toilet is one of the most important functional pieces of plumbing in your house. You know you can't get along without one! But because the toilet is so functional, people often don't think about when the time has come to replace an old unit with a new one. No part of a home's plumbing will last forever, so eventually, that old bathroom fixture will need to come out—and it will take a professional plumber to do the job.
How will you know that it's time to call our plumbers to replace your bathroom toilet? We've listed a few signs below that will alert you:
Constant clogging and overflowing: People expect to run into toilet clogs and the toilet overflowing now and then. Sometimes a plunger will take care of a clog; sometimes it takes a professional plumber. If you're using the plunger once a week to unclog the toilet, that's too much. The same applies to when clogs seem to happen randomly.
The toilet wobbles: Does the toilet feel like it's loose from the floor? This might be the case, and you'll only need to have a plumber tighten up the screws to solve the problem. But this might also be a sign that the floor under the toilet is decaying because of water leaks—and that's extremely bad news! This could lead to a floor collapse. You'll not only need the toilet replaced, but you'll also need repairs to be done to the flooring.
Cracked bowl: A leaking toilet is a serious problem that needs plumbers to investigate and find out the cause. If the cause cracks along the porcelain of the bowl, then it's time for a new toilet. Cracker isn't a problem that can be fixed with cost-effective repairs.
Bad flushing: Not the most pleasant thing to think about, but if a toilet isn't getting the job done that it's supposed to, you may need it replaced. There are other possible sources for this problem, so ask for the help of a licensed plumber: you may have issues down in the sewer line that needs to be addressed. If the toilet is worn down, then replacing it is the best step.
You'd like to save water: Maybe that old bathroom toilet is working fine, but you're interested in putting in a low-flow model to help save water. Older toilets can use from 3 to 6 gallons per flush, while low-flow toilets drop that down to around 1.5 gallons per flush. That makes a huge difference for indoor water use, and we think it's reason enough to scrap an old commode for the newest water-conserving model.
When you need to call a Farwell, TX plumber for an opinion about whether it's time to have your toilet replaced, look to us. We're a family-owned and operated plumbing contractor with more than 16 years of history delivering the finest to our customers, from bathroom plumbing to new construction and remodeling plumbing.